Alone in the Crowd
Título del disco: "El Triste Muro de la Sociedad"
Año: 2008, México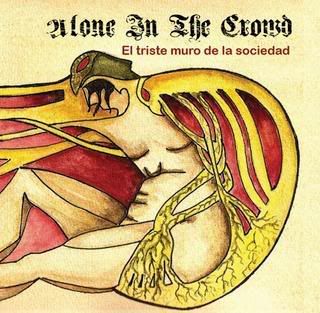 Este trío desde Saltillo, México nos presenta un excelente trabajo musical de lo que es crust/punk. La simpleza agresiva que los caracteriza es lo que más puede apasionarte, gracias a un producto completamente fusionado rítmica y vocalmente. Canciones pesadas y una fuerte artillería de temas sociales y cotidianos te dejarán sin duda trepando paredes. La banda ya tiene 4 años desde su fundación y en estos momentos se encuentra en gira por toda la República Mexicana y ya preparando nuevos temas para su próxima producción en un compartido juanto a la banda Agrimony (Los Angeles).
Disponible a través de:
Rotten Cats Records
http://www. myspace. com/rottencats
http://www. myspace. com/aloneinthecrowd1
Heberto Adds: Si te gusta el D-beat en general o bandas a lo Tragedy, Remains of the Day, To what end? etc. pues va en esa linea en espaniol!
Salu!